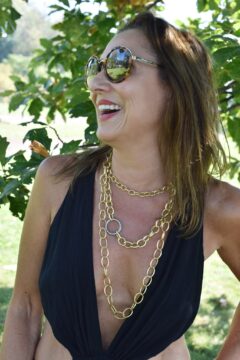 A Few Words about the designer
Lisa Leone Jewelry specializes in the art of handmade jewelry, using 22k gold to craft one of a kind pieces. The materials appear inspiring the artist to create. The pureness of the metal with the meticulously chosen stones have an energy that is compounded with the energy and love that is poured into every piece during its creation. The aligned buyers embody the intentionality of the brand: positive energy, powers of manifestation, confidence and empowerment. We stand for inspiring women, we rise together.
The collections are deliberately created to pair with each other creating options for any occasion. They can be worn during the day to elevate your casual style and transition to night effortlessly.
The Lisa Leone Promise: With every piece sold, a portion of the proceeds goes to a local woman's shelter. jewelry that gives back.